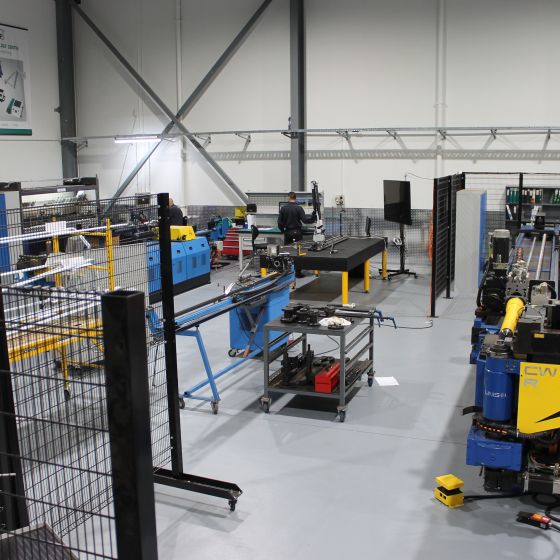 Contact STAUFF Technology Centre
Any questions about computerised bending? Get in touch now!
UNISON Pinball 50
The Unison Pinball bending machine is a hi-tech fully automated electric CNC mandrel bender suitable for bending highly complex shapes utilising its multi-head function which minimises collisions during bending - all controlled by Unibend programming, OPT2SIM simulation software and Hexagon Absolute Arm. 
Capacity to 50.8 mm (2'') O.D. tube minimum wall thickness 0.9 mm
Tube length 6100 mm or expanded to 7300 mm 
Accuracy and repeatability between bends 0.1 mm / 0.05 mm
Accuracy and repeatability degree of bend 0.1 deg / 0.05 deg
Dual head left and right for collision avoidance
Left and right hand bending for complex shapes
All moving components are servo driven for accuracy and precision
Multi stack head for multiple tube sizes
Additional bender equipment:
Tracto-Technik Tubotronic 6-50.8 (2" O.D.) fully automatic PLC controlled 3-axis bender
Tracto-Technik Tubobend 4-16 (5/8" O.D.) PLC controlled 1-axis bender
Various manual benders and tube-bending jigs
Tooling
A comprehensive range of 2 x D, 2.5 x D and 3 x D bend tools, ball and solid mandrels, wiper dies, custom-made tools, and bending jigs to suit metric and imperial O.D. tube and nominal bore NB pipe in various materials. 
Storage of prototypes is available for OEM customers.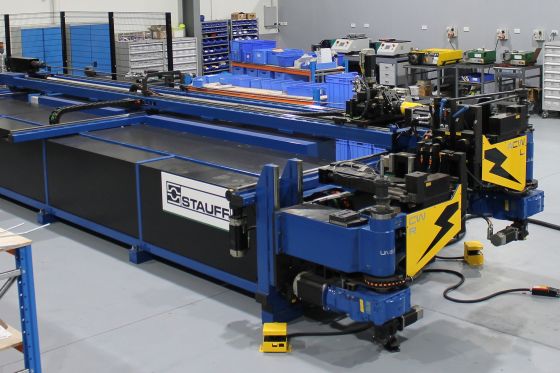 STAUFF Technology Centre Capabilities