Application Specialist for Mobile Applications
Any questions about the applications on this page? Get in touch now!
Renowned manufacturers of motorhomes and caravans use Stauff Connect tube connectors in their gas supply lines. A DVGW (German Association for the Gas and Water Trade) type test certificate is available for a number of different connection and joining components of type FI-DS double-edged cutting rings, confirming their successful testing and approval for gas applications up to 16 bar.
Campers need gas to for heating, cooking and cooling in their mobile holiday accommodation. The feed line from the gas pressure control safety system to the distributor or to the individual consuming units has to be designed as a fixed tube. It goes without saying that the safety and reliability of these components are governed by extremely stringent requirements.
Welded precision steel tubes with 8 or 10 mm diameter and 1 mm wall thickness are generally used for this. Renowned manufacturers use components from the STAUFF Connect range to connect these tubes. The range complies with the relevant requirements, such as DIN EN 1949 ("Specification for the installation of LPG systems for habitation purposes in leisure accommodation vehicles and accommodation purposes in other vehicles") and DVGW code of practice G 607 ("LPG systems in leisure vehicles and residential units").
Gas supply lines in motorhomes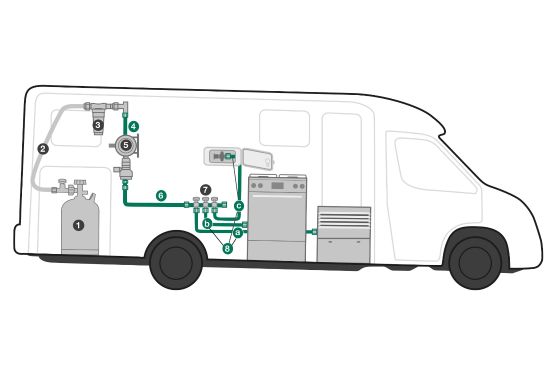 Gas cylinder
Hose to the gas filter
Gas filter
Tube to the safety gas pressure control system
Gas pressure safety control system
Tube to the distributor
Distributor
Tubes to the consuming units
a) Heating
b) Hob
c) Supply connection, e.g. for a grill
The suitability of the Light L Series STAUFF Connect range for this application, particularly the type FI-DS double-edged cutting rings, has been confirmed through a certification by the German Association for the Gas and Water Trade (DVGW). Various tests conducted in compliance with DIN 3387-1 ("Separable unthreaded pipe connections for metal gas pipes – Part 1: Connections for pipes with smooth ends") form the basis for this.  Leak-tightness, internal stress resistance (pressure test), axial strength (tensile strength) and resistance to vibrations were tested, among other things.
The result: The tested components fully passed the test requirements of DIN 3387-1 and are therefore awarded a DVGW type test certification for gas applications up to 16 bar.
Apart from safety and reliability, there are other reasons why manufacturers are using these separable connecting elements: STAUFF is a one-stop supplier for the cutting rings and all other required components as well as the relevant assembly machines. The range also includes a machine which was developed for assembly on tubes with particularly small bending radii. This functionality is particularly important for motorhomes and caravans, where installation takes place in very tight spaces. In addition, premium manufacturers in particular also appreciate the high-quality look and excellent corrosion resistance of the zinc/nickel finish of these components, which require no further surface treatment.
Typical areas of application for STAUFF products
Gallery with a selection of motorhomes in which STAUFF gas supply components are typically already used as original equipment by the OEM (original equipment manufacturer):
Selection of STAUFF products