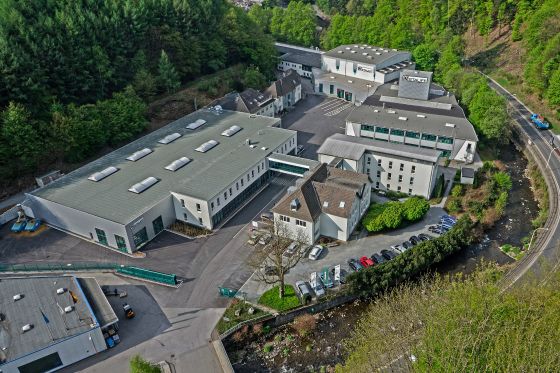 Germany
Head Office STAUFF Germany
Walter Stauffenberg GmbH & Co. KG
Im Ehrenfeld 4
58791 Werdohl
Since the early 1980s, a number of different original STAUFF products have been manufactured and assembled at the Ehrenfeld 4 site in Werdohl. In addition to replacement filter elements for hydraulic systems and other areas, the site in particular produces tube connectors, connecting elements and accessories from the STAUFF Connect series, as well as test couplings, fittings, adaptors and configured test hoses from the STAUFF Test product group. 
Immediately after production, the standard steel products from the Werdohl Ehrenfeld factory usually undergo additional processing steps at one of the surrounding galvanising partner shops, before the articles are stored at the Neuenrade Küntrop logistics centre, packaged and ready for shipping, or sent directly to customers around the world.
Werdohl Ehrenfeld is the headquarters of STAUFF in Germany and is home to management as well as to the functional divisions for administration, sales, marketing, customer service, finance and controlling, quality management as well as research, development and design, and the STAUFF System Technology division.
Start your virtual 360° tour through the Werdohl Ehrenfeld plant
and the STAUFF production and assembly areas in Germany!
Foreign markets supported by Germany:
Europe
Albania
Algeria
Austria
Belgium
Bosnia and Herzegovina
Bulgaria
Croatia
Cyprus
Czech Republic
Denmark
Estonia
Faroe Islands
Finland
Georgia
Gibraltar
Greece
Hungary
Iceland
Kazakhstan
Kosovo
Latvia
Liechtenstein
Lithuania
Luxembourg
Macedonia
Moldova
Montenegro
Netherlands
Norway
Portugal
Serbia
Slovakia
Slovenia
Spain
Sweden
Switzerland
Tajikistan
Turkey
Turkmenistan
Ukraine
Uzbekistan
Africa
Egypt
Ghana
Cameroon
Kenya
Madagascar
Maldives
Morocco
Namibia
Nigeria
Seychelles
South Africa
Tunisia
Asia
Azerbaijan
Bahrain
Iran
Israel
Japan
Yemen
Jordan
Qatar
Kyrgyzstan
Kuwait
Lebanon
Nepal
Oman
Saudi Arabia
United Arab Emirates