STAUFF Digital at the Phoenixwerk in Dortmund Hörde
STAUFF Digital aims to generate measurable added value through targeted digitalisation measures and thus make a decisive contribution to the success of business partners
STAUFF Digital was launched in 2019. From Phoenixwerk in Dortmund Hörde – a site where steel was produced until only a few years ago – the digital division works on solutions for the current and future challenges of digital transformation in the worldwide STAUFF Group with a growing team headed up by the Chief Digital Officer (CDO).
Always firmly in view: The entire value chain of the customers from end to end! STAUFF Digital aims to generate measurable added value through targeted digitalisation measures and thus make a significant contribution to the success of business partners – fully in line with STAUFF's corporate vision.
The clear focus is currently on e-commerce, i.e. primarily the possibility for existing and new customers to buy STAUFF products online without any barriers – at any time and from anywhere in the world! To this end, concepts are being developed taking into account local requirements; roll-out projects into global markets covered by STAUFF's worldwide subsidiaries are being initiated and supported – something that has already been successfully completed in Germany and the United Kingdom.
Essential part of the e-commerce approach: Partnerships on an equal footing
However, the e-commerce approach is deliberately not aimed at purely verticalising the company's own value chain. STAUFF believes in cooperation with strong system partners and distribution partners and the benefits for end customers resulting from the joint offering – from small maintenance companies to large, globally operating OEM machine and system builders. Accordingly, STAUFF's distribution partners are an essential part of the ongoing digitalisation offensive in the field of e-commerce.
In the area of e-commerce, however, it will not end with a pure online shop: Further functionalities, formats and content for the digital STAUFF online platforms worldwide are already being developed and integrated on an ongoing basis. Look forward to virtual information events and dedicated public live streams, the STAUFF University, further innovative training approaches with virtual reality technologies and much more.
The STAUFF Blog will keep you frequently updated on these topics and other innovations in the coming weeks and months. Stay tuned!

Dortmund location: A decision with vision
Even though the roots of the STAUFF Group lie in the German region of South Westphalia, one of the most attractive and economically successful regions in the country, Dortmund was chosen as the headquarters early on when STAUFF Digital was founded.
The Ruhr metropolis is a lively and growing location for forward-looking ideas and industries. A strong sense of togetherness has always been lived here. While this was originally true for work in the industrial environment, it is now evident in a dynamic and well-connected digital community.
With over 1,000 IT companies (with a focus on software), 17,000 employees in the IT sector and 9,000 IT students at Dortmund's universities*, a lively start-up scene, established service providers and strong research expertise, Dortmund presents itself as the leading digital centre between the Ruhr region and Westphalia. It is home to start-ups and global players alike and offers the best conditions for further development, growth and synergies.
* Figures from the Dortmund Economic Development Agency (as of 2020)
  Location Photo Dortmund: © Christian Eblenkamp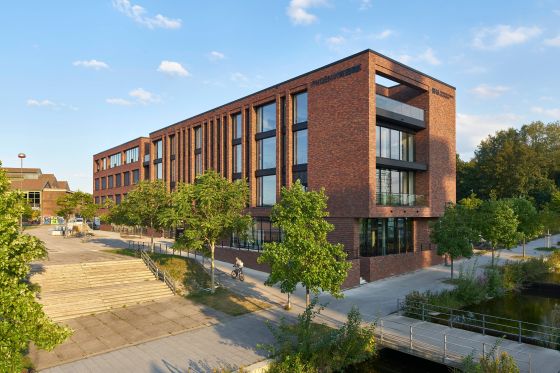 Germany
Head Office STAUFF Digital
Walter Stauffenberg GmbH & Co. KG
Phoenixplatz 3
44263 Dortmund